SEA TROUT & SALMON FISHING RIGHTS
The River Ugie is formed from the North Ugie and the South Ugie, which is impounded in its upper course to form Fedderate Reservoir. The two streams meat east of Longside and enter the sea at Peterhead. The River Ugie is a worthwhile sea trout river with a good number of salmon caught too. The Title has rights to fish in this river included.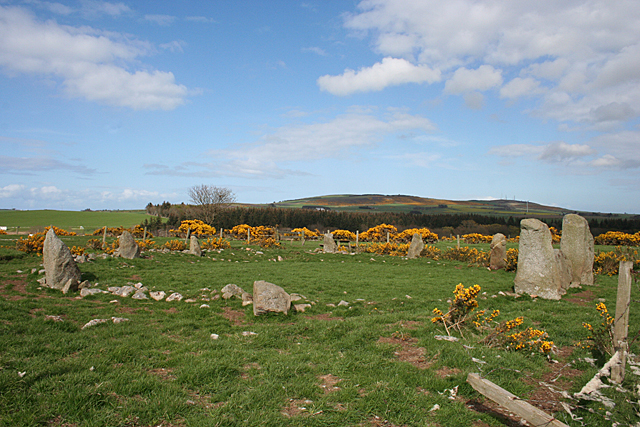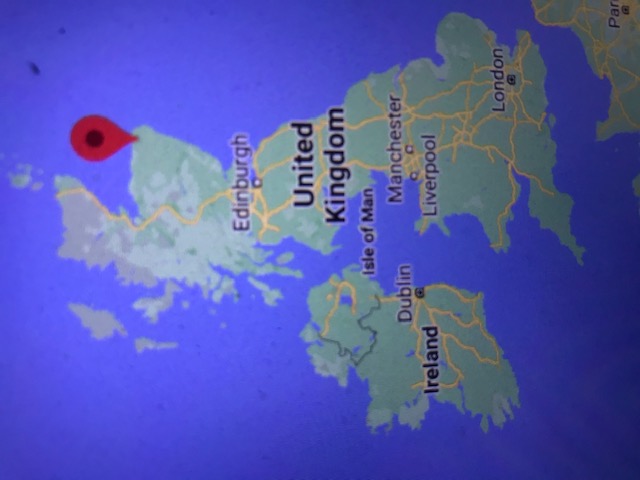 COMES WITH IT'S OWN STONE CIRCLE IN ABERDEEN.
QUALIFIES FOR LORD LYON COAT OF ARMS.
History
The large central Buchan village of Strichen has a population of around 1,200 and lies on the east bank of the North Ugie Water in a sheltered valley, some eight miles south west of Fraserburgh. Regarded by many as the cultural capital of the area, it became one of the most successful of around 20 planned villages developed in Buchan.
The Strichen Stone Circle, which can be found three quarters of a mile south west of the village on the summit of a low hill, shows that a farming community has existed in this part of Buchan for at least four thousand years. Timothy Pont's map of the area, produced in about 1600, showed a tower house here, as well as two mills operating on the North Ugie Water. At the time Strichen formed part of a large parish centred on Rathen, more than half way to Fraserburgh. This changed in 1633 when Strichen was made a parish in its own right.
The combination of the water power offered by the North Ugie Water and the produce of the surrounding agricultural area led to the development of Strichen as a planned village in 1764, built as an expansion to the existing settlement of Mormond. In an advert placed in the Aberdeen Journal on 21 November 1763 its founder, Alexander Fraser, 7th Lord Strichen, offered "plenty of stone, lime and an inexhaustible supply of moss, a weekly market and four great fairs annually" and sought "all persons concerned in linen manufacture as there is plenty of yarn already spun in the [area]." As an incentive he is said to have offered £100 to the first person to finish building their house here, which was a great deal of money at the time.
By 1800, Strichen was home to a thriving textile industry including a bleachfield on the riverbank and mills to process locally-grown flax and produce linen. A new parish church was built in 1799 to replace the Mormond Parish Church built in the 1620s. The North Church which today serves as the parish church and stands in such a commanding position at the north west end of High Street Close was built as a Free Church in 1893.
Perhaps the most striking addition to the still young Strichen was the Town House, built in 1819. This has an imposing tower and spire which borrow from the design of Scottish tolbooths of earlier centuries. When originally built the arcaded ground floor had open sides, providing a covered market area. At the same time, the same architect, John Smith, and the same patron, Thomas Alexander Fraser, 10th Lord of Strichen and later the 12th Lord Lovat and 1st Baron Lovat, were busy building Strichen House, a mile to the south west. What emerged on its completion in 1821 was a grand granite mansion and accompanying farmstead.
In 1850 the estate, including the village and Strichen House, was sold to William Baird, who had made his fortune in iron and steel in Coatbridge. In 1865 Strichen gained a station on the railway line from Maud to Fraserburgh, and throughout the 1800s the population continued to grow despite serious setbacks for the village's textile industry. In the mid 1900s Strichen House fell out of use as a residence and was later gutted to serve as agricultural storage. Today it appears to be little more than a shell in which trees are growing.
The original name of the settlement here, Mormond, is also associated with Mormond Hill, which rises to a height of 750ft two and a half miles north east of Strichen. You can't miss it: the summit of the hill is clothed in a forest of dishes and aerials. Today these are mostly concerned with civilian communications. From the 1960s to the beginning of the 1990s, Mormond Hill formed part of a chain of NATO communications bases that extended from Canada across the Atlantic to the Ballistic Missile Early Warning System site at Fylingdales in Yorkshire.
Two other features of Mormond Hill are both older and subtler than the high-tech clutter on its summit. On its south west slopes, above Strichen, is a white horse laid out on the hillside in quartz, 162ft long by 126ft high. It is said to have been placed here to commemorate an incident during the Battle of Tourcoing (near Lille) on 18 May 1794, at which British and Austrian forces were beaten by the French. Alexander Fraser, 9th Lord of Strichen, was serving as a Captain in the 1st Dragoon Guards and had his horse killed underneath him during the retreat. A Sergeant by the name of Henderson offered to give Captain Fraser his horse, but was killed before he could do so. Captain Fraser escaped death on the sergeant's horse and, on returning to Strichen, built the white horse as a memorial to Sergeant Henderson. Meanwhile, the east end of Mormond Hill is home to a white stag made from quartz boulders. This measures 240ft in length and was constructed in 1870 by tenants to celebrate the laird's wedding.
Baron and Baroness Title – Higher in Rank than a Lord and Lady Title.
                       Masculine  Feminine
English……...Baron     Baroness
French………Baron     Baronne
Italian……….Barone   Baronessa
Polish……….Baron      Baronowa
Portuguese….Baräo     Baronesa
Romanian…..Baron     Baroneasă
Russian……..Baron     Baronessa
Spanish……..Barón     Baronesa
Czech……….Baron     Barónka
German…….Freiherr  Freifrau
Swedish…….Friherre  Friherrinna
Norwegian….Friherre  Friherrinna
Dutch……….Vrijheer  Vrijvrouw
Danish………Friherre  Friherreinde
Most Lordships had a court that could deal with minor crimes, serious crimes were dealt with in the nearest Baron's court called a "Court Baron". The Baron's Court was also a Tax collector on behalf of the crown in the feudal system. Baronial Courts (Baronial house for the Baron and Baroness) were generally far grander than a normal Manor house of Lords and Ladies, most Manor houses were no more than a farmhouse.
Barons and Baronesses would display their higher status to Lords and Ladies by holding banquets and offering their guests rare and expensive foods. They would wear expensive clothing often with gold or silver thread. The banqueting hall would have a grand large fireplace to keep their guest warm during the banquet. Wine was served in "Goat Skins" squeezed into wine jugs and served in pewter or wood tankers or silver goblets.  
To be a Baron and Baroness in the medieval times was like being a celebrity in today's society. Commoners, Lords and Ladies had to bow to Barons and Baronesses. They rode big shire horses (medieval Ferrari) as a display of their status, they had knights (bodyguards) to guard them when they travelled. They were high society of their time. Titled people in the 21st century are so rare, most titled people inherited their title; people will think that is the case when you use your title. We are governed by strict privacy laws in Europe which do not allow us to disclose to anyone that you bought it, so the sale is absolutely private and confidential.
Barons and Baronesses generally wore a baronial seal ring, therefore we are including this nobility seal ring with every Baron and Baroness purchased.