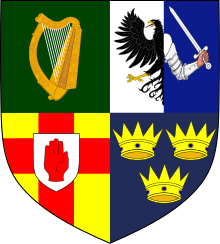 Fore has an area of 49,056 acres, making it the largest barony in Westmeath but placing it among the smaller baronies in Ireland. Mullaghmeen, the highest point in Westmeath is located in Fore and at 261 metres (856 ft) is the lowest county high point in Ireland. The barony contains three large lakes, Lough Derravaragh, Lough Sheelin and Lough Lene and the River Inny flows through the barony before it connects to the River Shannon. The barony borders the counties of Cavan, Longford and Meath.
Fore is a barony in northern County Westmeath, Ireland. It was formed by 1672.
There are 17 baronies in Co. Meath that we know about. You may wish to compare this list (below) with Wikipedia's list of baronies in Meath.
Townlands
There are 103 townlands that we know about in Fore. This represents 97.5% of all the area in Fore.
Situated at Fore Abbey (Irish: Mainistir Fhobhair) is the old Benedictine Abbey ruin, situated to the north of Lough Lene in County Westmeath, just 25km outside its county town of Mullingar.
Fore village, (sister parish of nearby St. Mary's Collinstown) is situated within a valley between two hills: the Hill of Ben, the Hill of Houndslow, and the Anchorland rise area. There can be found the ruins of a Christian monastery, which had been populated at one time by French Benedictine monks from Évreux, Normandy.
Fore, Fobhar is the anglicised version of the Irish name that signifies "the town of the water-springs" and was given to the area after Saint Feichin's spring or well, which is next to the old church a short distance from where the ruined monastery still stands. It was St. Feichin who founded the ancient Fore Abbey around 630. By 665 (the time of the yellow plague) there were 300 monks living in the community.